About Wavehaven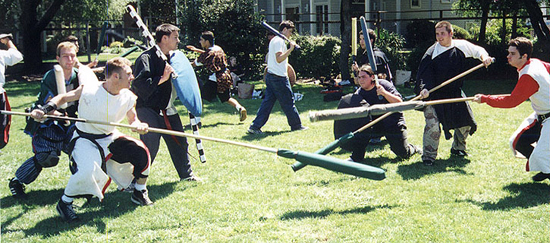 "Greetings to all who are reading this. I have traveled to many different places, and seen many beautiful sights, but Wavehaven is a diamond among pearls. Its grass glows green, and its trees sing in the warm wind. The people are numerous, and of all different races and professions.

My home is not close to the battlefield of Wavehaven, but whenever goblins invade, or a dragon is loose, I am there. The field of battle lies beyond the city gates.

The city's market place I personally love because of all the rare juices and nectars. I personally love a rare grape nectar, but that is a different story. Sometimes I just stand overlooking the sea, watching the visiting ships come in, breathing the clean ocean air. I have no love of sailing, but many do in Wavehaven. They love to sail the endless seas of blue looking for great treasures and adventure.

Near the city, across from the Beaches of Albasnia, lies the Bardic Woods. Many stories tell of a great ruler that once lived there, but upon my visit all I saw were wandering bards. I can't tell enough my love for this elegant land. If ever this log enters your hands, stop on by to experience the world that is Wavehaven."

-Lucif Cure Tu'Amara, wandering bard of olde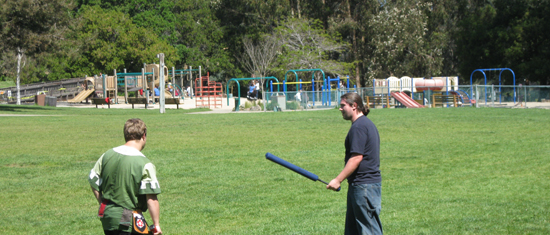 Wavehaven was formed in the summer of 1994 by a Jim Henry, an Amtgarder from Los Cruses, NM. Back home he was known as Sir Jetara, but here there was no one who would recognize his white belt for what it was. After a few weeks of living in California, Jetara and his wife decided to begin their own land here. They put out fliers and contacted a local gaming league looking for interested individuals. The first official day of Amtgard at Wavehaven hosted eight players. After a few months our membership grew to about twenty a week and we were recognized as a Shire under the Kingdom of Dragonspine.
Soon we achieved Barony, and then in 1999 we were recognized as a Duchy. In part because of our sheer numbers (over forty frequently) and because of our prowess at fighting and the Arts and Sciences. Back then we moved every week from park to park, which helped us get our numbers. We frequented Harvey West, Frederick Street, Star-of-the-Sea, Lighthouse, and Garfield parks.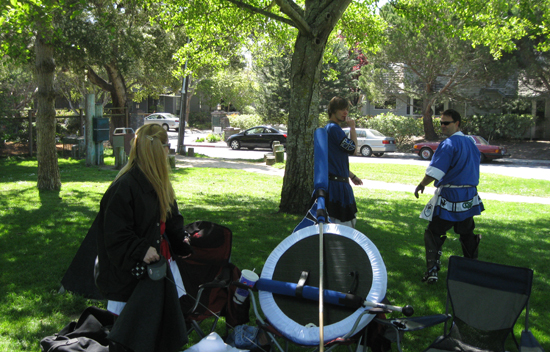 While it is not known to 100% confidence where Wavehaven first met to fight, but now-a-days we only call Frederick Street Park in Santa Cruz as home. A rolling green field welcomes our fallen and shady trees comfort our resting. Overlooking the Santa Cruz Harbor, Frederick Street Park is a beautiful park that is relatively central to the city of Santa Cruz. We meet every Saturday under the trees at the front of park, usually around the Black Spire near the southern edge.
If you are interested in experiencing the Amtgard experience, feel free to come by and visit us at any time between noon and five on Saturdays. Be sure to check the calendar before planning to come by, just in case there is a big event near-by that most of will be at. Chances are good though that even if most of the land is out of town, there will still be one or two around to welcome you. During the rainy season, we sometimes migrate down the street to Star-of-the-Sea park (also on Frederick Street, just further north toward the hills), which usually stays drier and can withstand our rigorous activities. Be sure to check there if you do not see anyone at Frederick Street Park.
Do not worry about it being your first time. We are very eager to help new-comers to the game. A safe bet would be someone there has some equipment they can loan you and someone will always be made available to teach you the basics. So please, come on by and learn our ways. You can ask any questions you have at the field, or use our mailing list or our discussion forum (be sure to use a username we will be able to recognize later on).