The War of the Darkshore XII

Presented by the Duchy of Wavehaven
May 22–25, 2009
Mount Madonna County Park
Schedule
(PDF, 261KB)
,
Assassin's Game Rules
(PDF, 258KB)
,
Waiver
(PDF, 315KB)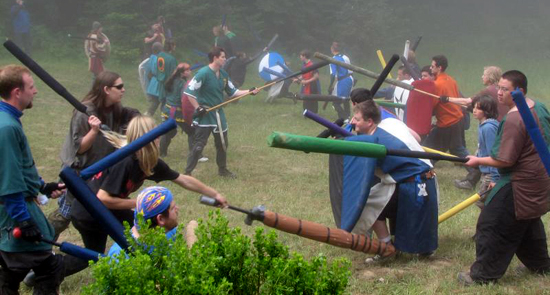 For over a decade, the Duchy of Wavehaven has defended the western shores of the Kingdom of Dragonspine from marauders. With the formation of the Principality of Westmarch, we find ourselves strengthened by the arms of our allies. The time to call upon our armies is upon us. The War of the Darkshore has come again! So grab your swords, grab your shields, grab your tents, and grab your courage. Join us for Wavehaven's annual camp-out, the biggest camp-out in California! Events this year include ravine and castle battles, court, jugging, meals for all, ditching and more!
Directions from Wavehaven
Get on Highway 1 South. Take the Airport Blvd exit and skirt the edges of Watsonville, staying on Airport Blvd. At Green Valley Rd, a couple of miles down, Airport Blvd turns into Holohan Rd, continue on Holohan. You will pass a fruit-stand on your right, and take a near-immediate left onto East Lake Ave/Highway 152. You will continue on Highway 152 into the hills (where it turns into Hecker Pass Rd). Watch for an inn and a restaurant. Just afterwards there is a left turn into Mt. Madonna County Park. See below for directions on how to navigate through the park.
Directions from the north/south
Find your way to Highway 101. It runs through most of California, so that should not be too hard. Figure out your north/south alignment and head that way until you reach the garlicky city of Gilroy. Take the Highway 152 West exit. Turn to the west (toward the coast) onto Leavesley Rd. After you cross train tracks turn left onto Monterey St. Turn right onto 1st St. Thankfully there are signs for Highway 152 throughout Gilroy, follow those. On Highway 152, through the hills, take a right into the Mt. Madonna County Park before you reach the inn and restaurant. See below for directions on how to navigate through the park.
Navigating the park
Simply put; stay left at every opportunity. Do not pull into the ranger station, do not pay the rangers for anything. Use fees are covered by the gate fee collected at our campsite. If you get flagged down by a ranger, or stop one for help, tell them you are with the Amtgard group at the Bayview Youth Sites and they should be able to get you to us. After a large fenced area (deer pen) there will be a meadow with several dirt roads criss-crossing it. Our road is in the back right corner; drive down it all the way to the end of the road. Pull in and unload, and someone at thegate will help you figure out parking.